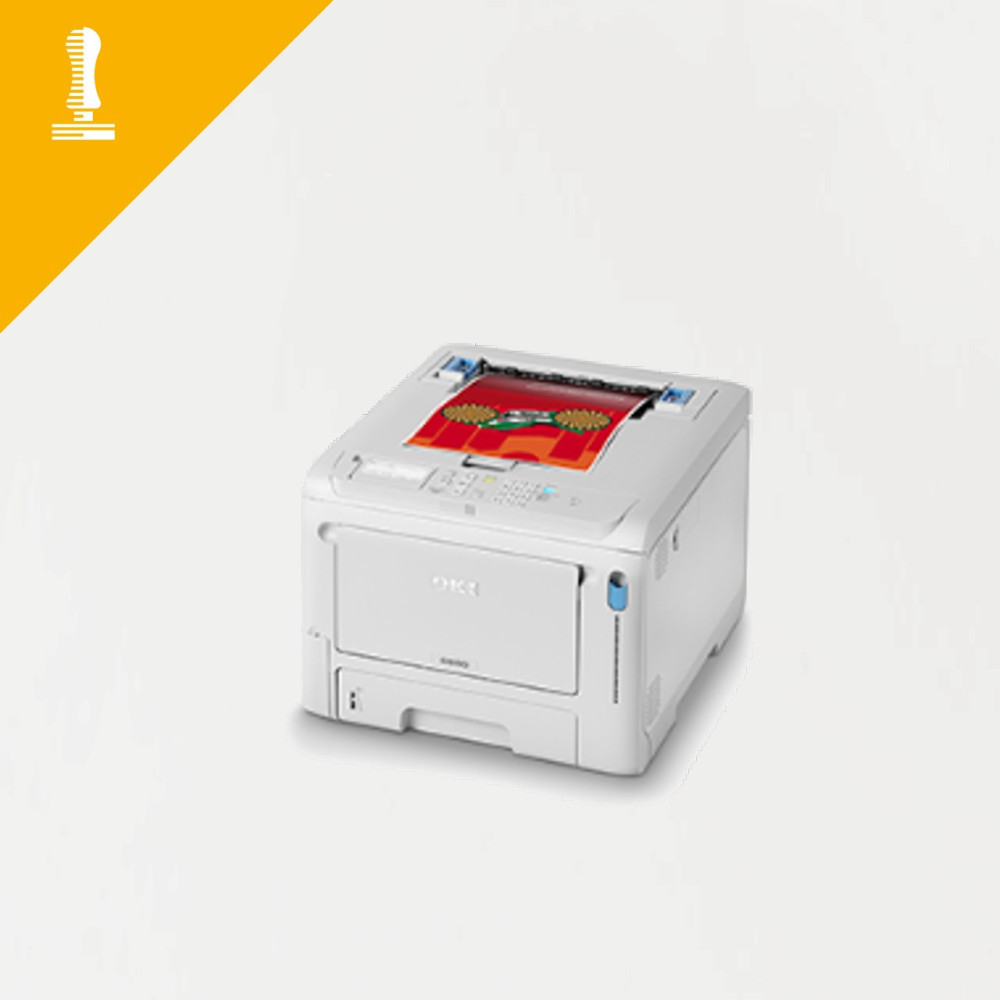 search
A4 transfer printer
Suitable for thermo-transfer printing
WARRANTY 2 years for private individuals and 1 year for companies
SHIPPING Within 48 hours throughout Europe, also insured
COLLECTION BY HAND By appointment in our 2Stamp shop in Milan
OKI laser printer, A4 format, color CMYK (without white toner). Leaflet by clicking here.
Specific version suitable for printing on self weeding thermo transfer for t-shirts and light and dark colored clothing.
It is used as a normal printer, connecting it to your computer;
with this version it is not possible to print the white color on shirts with colored and dark fabrics, to do this you need a specific printer equipped with white toner, or using standard printable thermoadhesive sheets (not self-contouring).
The ready-to-use kit for transfer printing on t-shirts is also available.

APPLICATIONS
It allows you to print
cotton and synthetic
T-shirts and
fabrics
, as well as suitable flat items such as glass, aluminum, tiles, etc.
The use of a suitable 
high pressure heat press
is required.
In any case, the use of specific
transfer paper
 is necessary.
COMPARISON WITH OTHER PRINTERS
- standard A3 format printer: the A3 allows much larger prints, exactly double the A4 size, up to 29.7x42 centimeters, thus managing to fill the entire surface of the shirt or item of clothing
- white toner printer: thanks to the addition of white it is possible to print any type of image even on colored or dark T-shirts through self-contouring transfers, i.e. those that are simpler to print, lighter to the touch and more resistant to washing
- sublimation printer: sublimation is mainly suitable for printing on specific objects. It is not suitable for printing on T-shirts and fabric in general: on cotton the print is canceled after a few washes; instead indicated for printing on white polyester shirts, in such a single case the yield is excellent
TECHNICAL FEATURES
Maximum resolution: 1200 x 1200 dpi
Warm-up time: about 20 seconds from power on
First Print Out Time: Color approximately 6,5 seconds, monochrome approximately 6,5 seconds
Print speed: 35 ppm color, 35 ppm mono
Supported Operating Systems: Windows® 7, Windows® 10, Windows® Server 2008, Windows® Server 2008R2, Windows® Server 2012, Windows® Server 2012R2, Macintosh OS X v10.9 or later
Memory: 256 MB
Paper formats: A4, A5, A6, B5, B6
Paper weight: 60 - 256 g / m²
Weight: about 24 kg
Power consumption: in operation max 1,150 W, standby 14 W
The lower drawers for loading paper are available as an accessory.

DRIVER
We provide the driver installation CD, suitable for both Windows and Macintosh. The driver is free and can also be installed on multiple computers.
HOW TO BUY
You can proceed with the purchase using the "Add to cart" function and following the instructions that will be given to you.
Alternatively you can contact us via the contact page, or directly to the email info@2stamp.it
WARRANTY AND ASSISTANCE
We offer assistance before the purchase to propose you the model and the most suitable options for your needs.
All our machines benefit from a guarantee, under European law, of two years in the event of purchase by individuals and of one year for companies. The extension of the free 3-year warranty is possible on certain models of the Oki brand, more information on the specific page of the Oki printer section.

In addition, an email contact is always available with a technician, for advice or for any need.
Fast shipment in all Europe
Intrastat invoice (without VAT) availlable. Best price in Europe!
16 other products in the same category: