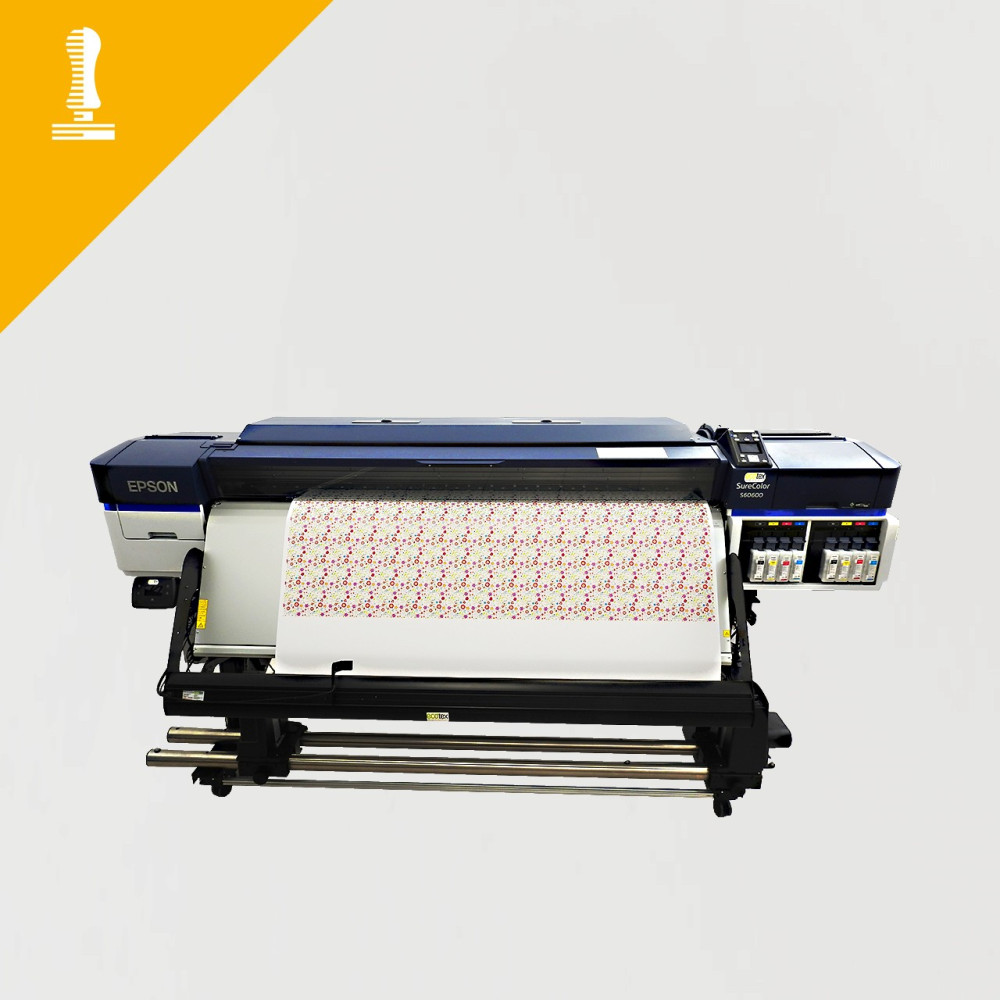 search
Eco-leather printing system for Epson plotters
Ecotex printing system unique in the world, to print on imitation leather
WARRANTY 2 years for private individuals and 1 year for companies
SHIPPING Within 48 hours throughout Europe, also insured
COLLECTION BY HAND By appointment in our 2Stamp shop in Milan
Unique printing system in the world, produced exclusively by Ecotex, for printing on imitation leather.
Additional kit for Epson Sure Color solvent printing plotters, mountable on the following models:
Thanks to this printing system, printing on imitation leather is possible with results of exceptional resistance to washing and rubbing.

TECHNICAL FEATURES
System composed of a specific heating lamp, managed automatically by the system, which prepares the substrate to absorb the ink in conjunction with a material drawing system, and an additional printing drying system.
The imitation leather printed through this printing system has been analyzed by the Istituto Analytical srl - Testing and Certification Services - passing all the tests it has undergone, also receiving the Martindale Certificate (abrasion resistance) with 13,000 rubbing cycles (a resistance equal to twice that of traditional fabrics).
PRINTABLE IMITATION LEATHER
Available in specific artificial leather for this type of printing, in five different finishes.
The Ecotex imitation leather is a fabric of natural origin worked with low environmental impact techniques; it does not derive from animal products, but maintains its aesthetic qualities such as: texture (smooth or embossed leather) and color. It is a soft and extremely elastic product, easy to cut and fold also by laser cutting, professional and industrial cutting benches, but also with simple scissors and cutter.
For the correct printing results, it is necessary to use only these types of materials, as the surfaces are chemically treated for the use of the original Epson eco-solvent inks and the material has a thickness suitable for printing using these plotters.

ADVANTAGES
PRODUCTION COSTS
Reduction of production costs. It allows the production of the highest quality (infinite number of shades and colors), which makes Ecotex an ideal technology for the textile industry.
DIRECT PRODUCTION
Textile companies can switch from simple sampling of imitation leather to direct production. Ecotex digital printing on imitation leather offers the best way to optimize your inventory by guaranteeing the production styles and quantities needed, avoiding annoying inventory investments.
EFFICIENCY
Digital printing on 'imitation leather' speeds up the screen printing process and produces a finished fabric in a few days instead of weeks or months. It also allows to obtain delivery times according to customer needs.
UNIQUE TECHNOLOGY IN THE WORLD
This technology, which works with the latest generation machines, allows you to produce personal and professional prints on imitation leather, ensuring a final result without loss of color and detail.

FIELDS OF APPLICATION
- Printing works
- Textile industries
- Clothing manufacturers
- Leather goods
- Manufacturers of bags and accessories
- High fashion
- Furniture and interiors (covers for sofas, armchairs, pouffes, bed headboards, walls and other furnishing accessories)
- Saddlery for boating, motorcycles, bicycles, cars etc.
- Small items (diaries, bottle bag, cases, frames, etc.).
SUITABLE ECO SOLVENT PLOTTER
- Epson SC-S40600 printing plotter: single head version, slower in printing, and equipped with only four colors, which allow to reproduce a lower variety of colors
- Epson SC-S60600 printing plotter: double head version with much faster printing, equipped with four colors and printing qualities comparable to the S40600 model. Most requested model in combination with the kit for printing on eco-leather
- Epson SC-S80600 printing plotter: double head version and also equipped with 10 colors, including white and metallic silver, which allow to reproduce an almost total and totally realistic variety of colors